Plan FreeJi: 4G VoIP with PSTN backup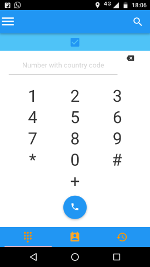 USING THE APP
Register by clicking the button below
After registration, you will receive a link to download the App
Install the App on your phone.
Login to the App using the username and password sent to you
Sync your contacts
Start making calls!
Optionally make a payment to access Premium Features
Click on Register Now below
Register Now
"Free Calling for your Smart Phone"
Linq's App gets you Free International Calls to 3 Countries. You never need to pay, but if you do, many Premium Features open up: Worldwide calling from Rs1/min, Return calls and India calling when abroad. Designed for your 4G Smart Phone, currently Android is supported, with iPhone coming soon!
Free International Calls to 3 destinations from your 4G Smart Phone.
Call USA, Canada & landlines in UK for free.
No payment needed ever to call free destinations.
Other destinations, including UK mobile, start at Rs1/minute!
PSTN backup: those you call can return your call - without 4G!
Many optional paid services available for upgrade
Unlimited calling to 3 countries on 4G
Call unlimited to landlines and mobiles in USA and Canada.
Call unlimited to landlines in UK.
No payment needed ever if you only call free destinations.
Android based smartphones with 3G/4G connection required.
iPhone support coming!
Calling via Wifi also works in most cases, depending on your router.
Optional payment unlocks Premium Features!
List of Premium Fetures
Calls to other destinations from Rs1/minute.
Receive return calls (PSTN Backup) from those you call. Details below.
Receive calls on phone numbers dedicated (Dedicated CallerIDs) to you. Details below.
Use the App to call India when travelling abroad. India calling will be automatically enabled.
Payment into your account removes the restrictions on commercial use of your account.
Minimum payment accepted: Rs500
Payment accepted via Cards and netbanking.
PSTN Backup: return calls on shared callerID
Those that you call can return your call on the shared callerID they see.
They can call any time in the future - upto 6 months later!
Once they call you back, they can keep calling you for ever.
India rates apply for return calls. See tariff below.
Dedicated callerIDs at additional charge available from 51 countries that forward to your phone.
Dedicated CallerIDs from 51 countries
Dedicated callerIDs are phone numbers in other countries that land on your phone in India.
Each Dedicated callerID has a monthly charge starting Rs250.
Each call forwared to your phone is charged at India rates. See tariff below.
Can be any type of phone - even a landline.
Dedicated callerIDs available from 51 countries that forward to your phone.
No need for an Internet connection or 3G/4G service to receive calls from Dedicated CallerIDs.
Service Restrictions
Free calling is for personal use only & cannot be used for commercial activities
Restrictions on commercial activities do not apply to paid accounts.
This tariff can only be used on software provided by us
Fair usage policy of 200 free calls or 1,000 free minutes per month, whichever is lower.
You can call India only when travelling, not when located in India.
Installing the App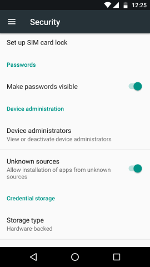 Registration
Please register at our site by clicking on the registration link.
Download App
On registration you will receive
this link
to download on your phone.
Install App
Please install the App on your phone. You need to enable "Unknown sources" (Settings->Security) in your phone to install it. This is required because the App is not launched in Play Store. Also when the App is started for the first time, it asks for permission to access the phone's contacts, location and record audio. Please do the same for proper functioning of the App.
Using the App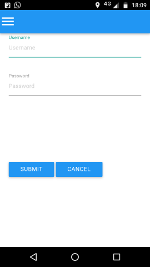 Login to the App:
Start the app, and login to it using the username and password created during registration on this page. The username and password will be mailed to you as well as sent in the SMS with the download link.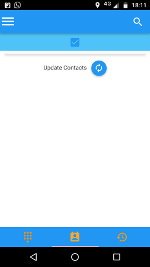 Sync phone contacts:
Click on the contacts tab and then "Update contacts" to load your contacts into the App. The App will add +91 wherever it finds a number without a country code, or with a "0" at the start.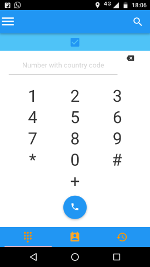 Use Dial Pad:
You can also directly type numbers instead of using contacts. Please ensure that numbers are in international format, i.e. they start with the country code. You need not start with "+"
Tariff Sheet: 3 Free destinations, 12 countries @ Rs1/min
Rates are subject to change without notice.
Rates in INR.
| | | | |
| --- | --- | --- | --- |
| Code | | Country | Rate |
| 1600, 1782, 1825, 1587, 1780, 1403, 1604, 1778, 1236, 1250, 1431, 1204, 1506, 1709, 1867, 1902, 1226, 1905, 1807, 1705, 1647, 1613, 1548, 1519, 1437, 1416, 1365, 1343, 1289, 1249, 1819, 1450, 1873, 1438, 1581, 1579, 1514, 1418, 1306, 1639, 1, 1674 | | Canada | 0.0000 |
| 44, 44808, 44800 | | United Kingdom | 0.0000 |
| 86 | | China | 1.0000 |
| 888 | | Disaster Relief | 1.0000 |
| 1671 | | Guam | 1.0000 |
| 91 | | India | 1.0000 |
| 82 | | Korea South | 1.0000 |
| 356 | | Malta | 1.0000 |
| 1939, 1787 | | Puerto Rico | 1.0000 |
| 40 | | Romania | 1.0000 |
| 65 | | Singapore | 1.0000 |
| 886 | | Taiwan | 1.0000 |
| 66 | | Thailand | 1.0000 |
| | | | |
| --- | --- | --- | --- |
| Code | | Country | Rate |
| 447, 443, 449, 448 | | United Kingdom Mobile | 1.0000 |
| 1907, 1684 | | Alaska | 3.0000 |
| 61, 611, 614 | | Australia | 3.0000 |
| 43, 436 | | Austria | 3.0000 |
| 880 | | Bangladesh | 3.0000 |
| 32 | | Belgium | 3.0000 |
| 1441 | | Bermuda | 3.0000 |
| 55 | | Brazil | 3.0000 |
| 673 | | Brunei | 3.0000 |
| 56, 569 | | Chile | 3.0000 |
| 57 | | Colombia | 3.0000 |
| 357, 3579, 3571 | | Cyprus | 3.0000 |
| 420, 4206, 4209, 4207 | | Czech Republic | 3.0000 |
| 45, 4540, 452, 4541, 4542, 4550, 4551, 4552, 4553, 4560, 4561, 4571, 4581, 4591, 4592, 4593, 4531, 4530 | | Denmark | 3.0000 |
| | | | |
| --- | --- | --- | --- |
| Code | | Country | Rate |
| 298 | | Faeroe Islands | 3.0000 |
| 33, 337, 338, 336 | | France | 3.0000 |
| 590 | | French Antilles & Guadeloupe | 3.0000 |
| 49, 491 | | Germany | 3.0000 |
| 30, 306 | | Greece | 3.0000 |
| 299 | | Greenland | 3.0000 |
| 852 | | Hong Kong | 3.0000 |
| 36, 3631, 3630, 3620, 3670 | | Hungary | 3.0000 |
| 354, 3548, 3549, 3546, 3547 | | Iceland | 3.0000 |
| 62 | | Indonesia | 3.0000 |
| 353, 35376, 3538 | | Ireland | 3.0000 |
| 972, 97215, 9725 | | Israel | 3.0000 |
| 39, 3955, 393, 3943 | | Italy | 3.0000 |
| 81 | | Japan | 3.0000 |
| | | | |
| --- | --- | --- | --- |
| Code | | Country | Rate |
| 965 | | Kuwait | 3.0000 |
| 423 | | Liechtenstein | 3.0000 |
| 352, 3526 | | Luxembourg | 3.0000 |
| 60 | | Malaysia | 3.0000 |
| 1670 | | Mariana Islands | 3.0000 |
| 52 | | Mexico | 3.0000 |
| 976 | | Mongolia | 3.0000 |
| 95 | | Myanmar | 3.0000 |
| 264 | | Namibia | 3.0000 |
| 31, 319, 316 | | Netherlands | 3.0000 |
| 64, 642 | | New Zealand | 3.0000 |
| 47, 474, 4758, 4759, 479 | | Norway | 3.0000 |
| 92 | | Pakistan | 3.0000 |
| 595 | | Paraguay | 3.0000 |
| | | | |
| --- | --- | --- | --- |
| Code | | Country | Rate |
| 51 | | Peru | 3.0000 |
| 48 | | Poland | 3.0000 |
| 351, 3519 | | Portugal | 3.0000 |
| 262269 | | Reunion Island Sp | 3.0000 |
| 378 | | San Marino | 3.0000 |
| 421, 4219 | | Slovakia | 3.0000 |
| 34, 346, 347 | | Spain | 3.0000 |
| 46, 467 | | Sweden | 3.0000 |
| 90, 905 | | Turkey | 3.0000 |
| 1340, 1808 | | U.S. Virgin Islands | 3.0000 |
| 998 | | Uzbekistan | 3.0000 |
| 93 | | Afghanistan | 10.0000 |
| 376 | | Andorra | 10.0000 |
| 54, 549 | | Argentina | 10.0000 |
| | | | |
| --- | --- | --- | --- |
| Code | | Country | Rate |
| 1242 | | Bahamas | 10.0000 |
| 973 | | Bahrain | 10.0000 |
| 975 | | Bhutan | 10.0000 |
| 591 | | Bolivia | 10.0000 |
| 387 | | Bosnia | 10.0000 |
| 359 | | Bulgaria | 10.0000 |
| 855 | | Cambodia | 10.0000 |
| 1809, 1345 | | Caribbean (809 Area Codes) & Dominican Republic | 10.0000 |
| 506 | | Costa Rica | 10.0000 |
| 1829, 1849 | | Dominican Republic | 10.0000 |
| 20 | | Egypt | 10.0000 |
| 503 | | El Salvador | 10.0000 |
| 251 | | Ethiopia | 10.0000 |
| 594 | | French Guiana | 10.0000 |
| | | | |
| --- | --- | --- | --- |
| Code | | Country | Rate |
| 350, 3506, 3505 | | Gibraltar | 10.0000 |
| 502 | | Guatemala | 10.0000 |
| 504 | | Honduras | 10.0000 |
| 98 | | Iran | 10.0000 |
| 962 | | Jordan | 10.0000 |
| 77 | | Kazakhstan | 10.0000 |
| 254 | | Kenya | 10.0000 |
| 996 | | Kyrgyzstan | 10.0000 |
| 856 | | Laos | 10.0000 |
| 371 | | Latvia | 10.0000 |
| 961 | | Lebanon | 10.0000 |
| 853 | | Macao | 10.0000 |
| 596 | | Martinique | 10.0000 |
| 230 | | Mauritius | 10.0000 |
| | | | |
| --- | --- | --- | --- |
| Code | | Country | Rate |
| 691 | | Micronesia | 10.0000 |
| 977 | | Nepal | 10.0000 |
| 599 | | Netherlands Antilles | 10.0000 |
| 687 | | New Caledonia | 10.0000 |
| 234 | | Nigeria | 10.0000 |
| 970 | | Palestine | 10.0000 |
| 507, 5076 | | Panama | 10.0000 |
| 63 | | Philippines | 10.0000 |
| 974 | | Qatar | 10.0000 |
| 262262 | | Reunion Island Sp | 10.0000 |
| 7 | | Russia | 10.0000 |
| 966 | | Saudi Arabia | 10.0000 |
| 1721 | | Sint Maarten | 10.0000 |
| 27, 276, 277, 278 | | South Africa | 10.0000 |
| | | | |
| --- | --- | --- | --- |
| Code | | Country | Rate |
| 94 | | Sri Lanka | 10.0000 |
| 249 | | Sudan | 10.0000 |
| 268, 26876, 26878, 26877 | | Swaziland | 10.0000 |
| 41, 417, 418 | | Switzerland | 10.0000 |
| 963 | | Syria | 10.0000 |
| 992 | | Tajikistan | 10.0000 |
| 993 | | Turkmenistan | 10.0000 |
| 971 | | United Arab Emirates | 10.0000 |
| 598 | | Uruguay | 10.0000 |
| 58, 584 | | Venezuela | 10.0000 |
| 84 | | Vietnam | 10.0000 |
| 967 | | Yemen Arab Republic | 10.0000 |
| 383 | | | 10.0000 |
| 244 | | Angola | 20.0000 |
| | | | |
| --- | --- | --- | --- |
| Code | | Country | Rate |
| 1264, 1268 | | Anguilla | 20.0000 |
| 374 | | Armenia | 20.0000 |
| 297 | | Aruba | 20.0000 |
| 994 | | Azerbaijan | 20.0000 |
| 1246 | | Barbados | 20.0000 |
| 501 | | Belize | 20.0000 |
| 229 | | Benin | 20.0000 |
| 267 | | Botswana | 20.0000 |
| 1284 | | British Virgin Islands | 20.0000 |
| 226 | | Burkina Faso | 20.0000 |
| 237 | | Cameroon | 20.0000 |
| 238 | | Cape Verde Island | 20.0000 |
| 385, 3859 | | Croatia | 20.0000 |
| 253 | | Djibouti | 20.0000 |
| | | | |
| --- | --- | --- | --- |
| Code | | Country | Rate |
| 1767 | | Dominica | 20.0000 |
| 593 | | Ecuador | 20.0000 |
| 291 | | Eritrea | 20.0000 |
| 372 | | Estonia | 20.0000 |
| 679 | | Fiji | 20.0000 |
| 689 | | French Polynesia | 20.0000 |
| 995, 9955, 99532 | | Georgia | 20.0000 |
| 233 | | Ghana | 20.0000 |
| 1473 | | Grenada | 20.0000 |
| 592 | | Guyana | 20.0000 |
| 964 | | Iraq | 20.0000 |
| 225 | | Ivory Coast | 20.0000 |
| 1876 | | Jamaica | 20.0000 |
| 850 | | Korea North | 20.0000 |
| | | | |
| --- | --- | --- | --- |
| Code | | Country | Rate |
| 266 | | Lesotho | 20.0000 |
| 218 | | Libya | 20.0000 |
| 370 | | Lithuania | 20.0000 |
| 389 | | Macedonia | 20.0000 |
| 265 | | Malawi | 20.0000 |
| 692 | | Marshall Islands | 20.0000 |
| 373 | | Moldova | 20.0000 |
| 377 | | Monaco | 20.0000 |
| 382 | | Montenegro | 20.0000 |
| 1664 | | Montserrat | 20.0000 |
| 258, 2588 | | Mozambique | 20.0000 |
| 505 | | Nicaragua | 20.0000 |
| 227 | | Niger Republic | 20.0000 |
| 968, 9689, 9687 | | Oman | 20.0000 |
| | | | |
| --- | --- | --- | --- |
| Code | | Country | Rate |
| 680 | | Palau | 20.0000 |
| 250 | | Rwanda | 20.0000 |
| 386 | | Slovenia | 20.0000 |
| 211 | | South Sudan | 20.0000 |
| 1869 | | St. Kitts | 20.0000 |
| 508 | | St. Pierre | 20.0000 |
| 1784 | | St. Vincent & Mustique | 20.0000 |
| 255 | | Tanzania | 20.0000 |
| 228 | | Togo | 20.0000 |
| 1868, 1649 | | Trinidad & Tobago | 20.0000 |
| 256 | | Uganda | 20.0000 |
| 380 | | Ukraine | 20.0000 |
| 447700 | | United Kingdom Mobile Sp | 20.0000 |
| 681 | | Wallis | 20.0000 |
| | | | |
| --- | --- | --- | --- |
| Code | | Country | Rate |
| 355 | | Albania | 50.0000 |
| 213, 2131 | | Algeria | 50.0000 |
| 6720, 6722, 6725, 6726, 6727, 6728, 6729, 6721 | | Antarctica Sp | 50.0000 |
| 247 | | Ascension Island | 50.0000 |
| 375 | | Belarus | 50.0000 |
| 257 | | Burundi | 50.0000 |
| 236 | | Central African Republic | 50.0000 |
| 235 | | Chad | 50.0000 |
| 6724 | | Christmas Island | 50.0000 |
| 269 | | Comoros | 50.0000 |
| 242 | | Congo | 50.0000 |
| 682 | | Cook Islands | 50.0000 |
| 53 | | Cuba | 50.0000 |
| 246 | | Diego Garcia | 50.0000 |
| | | | |
| --- | --- | --- | --- |
| Code | | Country | Rate |
| 240 | | Equatorial Guinea | 50.0000 |
| 500 | | Falkland Islands | 50.0000 |
| 358 | | Finland | 50.0000 |
| 241 | | Gabon | 50.0000 |
| 220 | | Gambia | 50.0000 |
| 224 | | Guinea | 50.0000 |
| 245 | | Guinea Bissau | 50.0000 |
| 509 | | Haiti | 50.0000 |
| 686 | | Kiribati | 50.0000 |
| 231 | | Liberia | 50.0000 |
| 261 | | Madagascar | 50.0000 |
| 960 | | Maldives | 50.0000 |
| 223 | | Mali Republic | 50.0000 |
| 222 | | Mauritania | 50.0000 |
| | | | |
| --- | --- | --- | --- |
| Code | | Country | Rate |
| 212 | | Morocco | 50.0000 |
| 683 | | Niue Island | 50.0000 |
| 6723 | | Norfolk Island | 50.0000 |
| 675 | | Papua New Guinea | 50.0000 |
| 670 | | Saipan | 50.0000 |
| 239 | | Sao Tome | 50.0000 |
| 221, 2217, 22130 | | Senegal Republic | 50.0000 |
| 381 | | Serbia | 50.0000 |
| 248 | | Seychelles Island | 50.0000 |
| 232 | | Sierra Leone | 50.0000 |
| 677 | | Solomon Islands | 50.0000 |
| 252 | | Somalia | 50.0000 |
| 290 | | St. Helena | 50.0000 |
| 597 | | Suriname | 50.0000 |
| | | | |
| --- | --- | --- | --- |
| Code | | Country | Rate |
| 690 | | Tokelau | 50.0000 |
| 216 | | Tunisia | 50.0000 |
| 688 | | Tuvalu | 50.0000 |
| 243 | | Zaire | 50.0000 |
| 260 | | Zambia | 50.0000 |
| 263, 2637 | | Zimbabwe | 50.0000 |
| 870 | | Inmarsat | 1000.0000 |
| 882, 88299, 88233 | | International Networks | 1000.0000 |
| 8813, 8812, 8818, 8819, 8816, 8817 | | Iridium Sp | 1000.0000 |
| 674 | | Nauru | 1000.0000 |
| 676 | | Tonga | 1000.0000 |
| 678 | | Vanuatu | 1000.0000 |
| 685 | | Western Samoa | 1000.0000 |
| | | | |
| | | | |
DID Country List
| | | | | | | |
| --- | --- | --- | --- | --- | --- | --- |
| Country | Code | Rent/month | Mobile Numbers Available | Local Address Requirement | Documents Required for Local Address | National Numbers with no Address Requirements Available |
| Belgium | 32 | 250 | ✓ | ✓ | ✗ | ✓ |
| Bulgaria | 359 | 250 | ✗ | ✓ | ✗ | ✗ |
| Estonia | 372 | 250 | ✗ | ✗ | ✗ | ✓ |
| France | 33 | 250 | ✓ | ✓ | ✓ | ✓ |
| Germany | 49 | 250 | ✗ | ✓ | ✓ | ✗ |
| Greece | 30 | 250 | ✗ | ✓ | ✗ | ✗ |
| Hungary | 36 | 250 | ✗ | ✓ | ✓ | ✗ |
| Ireland | 353 | 250 | ✗ | ✓ | ✓ | ✓ |
| Italy | 39 | 250 | ✗ | ✓ | ✓ | ✗ |
| Luxembourg | 352 | 250 | ✗ | ✓ | ✗ | ✓ |
| Netherlands | 31 | 250 | ✗ | ✓ | ✓ | ✓ |
| New Zealand | 64 | 250 | ✗ | ✗ | ✗ | ✗ |
| Poland | 48 | 250 | ✗ | ✗ | ✗ | ✗ |
| Portugal | 351 | 250 | ✗ | ✗ | ✗ | ✗ |
| Slovakia | 421 | 250 | ✗ | ✓ | ✗ | ✗ |
| Slovenia | 386 | 250 | ✗ | ✓ | ✗ | ✓ |
| South Africa | 27 | 250 | ✗ | ✓ | ✓ | ✓ |
| Spain | 34 | 250 | ✗ | ✓ | ✗ | ✓ |
| Sweden | 46 | 250 | ✓ | ✓ | ✗ | ✓ |
| Switzerland | 41 | 250 | ✗ | ✓ | ✗ | ✗ |
| USA | 1 | 250 | ✓ | ✗ | ✗ | ✗ |
| United Kingdom | 44 | 250 | ✓ | ✗ | ✗ | ✓ |
| Argentina | 54 | 500 | ✗ | ✗ | ✗ | ✗ |
| Australia | 61 | 500 | ✓ | ✓ | ✗ | ✗ |
| Bahrain | 973 | 500 | ✗ | ✗ | ✗ | ✗ |
| Brazil | 55 | 500 | ✗ | ✗ | ✗ | ✗ |
| Chile | 56 | 500 | ✗ | ✗ | ✗ | ✓ |
| Cyprus | 357 | 500 | ✗ | ✗ | ✗ | ✗ |
| Denmark | 45 | 500 | ✗ | ✓ | ✓ | ✗ |
| Dominican Republic | 1829 | 500 | ✗ | ✗ | ✗ | ✗ |
| Dominican Republic | 1849 | 500 | ✗ | ✗ | ✗ | ✗ |
| Finland | 358 | 500 | ✓ | ✓ | ✗ | ✓ |
| Hong Kong | 852 | 500 | ✗ | ✗ | ✗ | ✗ |
| Israel | 972 | 500 | ✗ | ✗ | ✗ | ✓ |
| Japan | 81 | 500 | ✗ | ✗ | ✗ | ✗ |
| Korea South | 8270 | 500 | ✗ | ✗ | ✗ | ✗ |
| Malaysia | 60 | 500 | ✗ | ✗ | ✗ | ✓ |
| Malta | 356 | 500 | ✗ | ✗ | ✗ | ✓ |
| Mexico | 52 | 500 | ✗ | ✗ | ✗ | ✗ |
| Panama | 507 | 500 | ✗ | ✓ | ✗ | ✗ |
| Peru | 51 | 500 | ✗ | ✗ | ✗ | ✗ |
| Puerto Rico | 1939 | 500 | ✗ | ✗ | ✗ | ✗ |
| Puerto Rico | 1787 | 500 | ✗ | ✗ | ✗ | ✗ |
| Singapore | 65 | 500 | ✗ | ✗ | ✗ | ✗ |
| Austria | 43 | 750 | ✓ | ✓ | ✗ | ✓ |
| Croatia | 385 | 750 | ✗ | ✓ | ✓ | ✗ |
| El Salvador | 503 | 750 | ✗ | ✗ | ✗ | ✗ |
| Latvia | 371 | 750 | ✗ | ✓ | ✗ | ✗ |
| Lithuania | 370 | 750 | ✗ | ✗ | ✗ | ✗ |
| Romania | 40 | 750 | ✓ | ✓ | ✗ | ✓ |
| Colombia | 57 | 1000 | ✗ | ✗ | ✗ | ✗ |
| Czech Republic | 420 | 1000 | ✓ | ✓ | ✗ | ✗ |
| Georgia | 995 | 1000 | ✗ | ✓ | ✓ | ✓ |
| Norway | 47 | 1250 | ✗ | ✓ | ✓ | ✗ |
| Turkey | 90 | 1250 | ✗ | ✓ | ✓ | ✓ |
Toll Free List
| | |
| --- | --- |
| Country | Per minute (Rs) |
| AUSTRALIA | 2.89 |
| BAHRAIN | 3.89 |
| CANADA | 0.99 |
| DENMARK | 24.89 |
| FRANCE | 10.89 |
| GERMANY | 10.89 |
| ISRAEL | 2.89 |
| SPAIN | 1.49 |
| SWEDEN | 8.89 |
| UK | 3.89 |
| USA | 0.99 |